Post by KTJ on Jun 9, 2016 9:50:07 GMT 10
from The Dominion Post....
Steampunk food van heating up the capital
with free food for the famishedWhy not buy lunch and then pay it forward by paying for the lunch of
the next hungry and struggling person? A new food van in Wellington
is prioritising caring for the city's most vulnerable people.By MIRI SCHROETER | 9:32AM - Tuesday 07 June 2016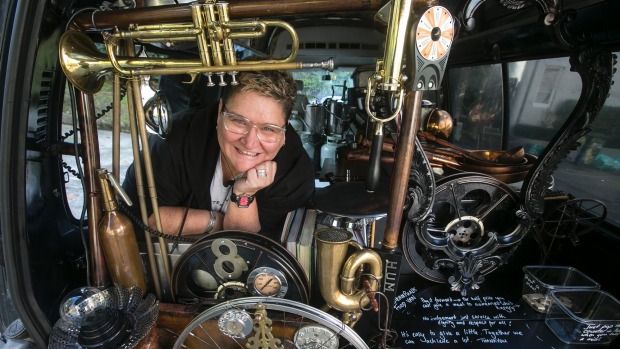 Helena Henare Coolen is starting a scheme with her Steampunk van that provides
free meals for people in need. — Photograph: Kevin Stent/Fairfax NZ.A
NEW FOOD VAN has rolled into the city that aims to give financially struggling people some free hearty tucker this winter.
The Steampunk food van is now open, launching an initiative where customers can buy a $10 lunch and pay an extra $5 to shout someone in need of a meal.
The free meals are kept as tokens in a jar and people can simply grab a token to pay for their lunch with no questions asked.
Helena Henare Coolen, the van's owner, says she wants to create a pay it forward initiative that lets people help each other in a simple and affordable way.
"I'm trying to pilot a model where it's easy to give food and easy to receive it."
Coolen started the food van on a shoestring budget, and hopes the idea will eventually be picked up by more Wellington businesses.
It's about doing work with a purpose — that encourages support systems and looks after people — but it's also about having a sustainable business model that others will hopefully catch on to, she says.
"I want to prove that I can make money but have a social impact at the same time."
Scrabble pieces serve as tokens in the containers to show how many free meals
are available for struggling Wellingtonians to grab their free lunch.
— Photograph: Kevin Stent/Fairfax NZ.
Coolen has spoken to many people living on the streets about their struggles and she says some of them work but still cannot afford everyday living costs.
"No one wants to be poor and living on the street."
"They want a safe place where they are treated with respect," she says.
Coolen wants all her customers to get the same quality of food, and she hopes that people feel like they can access the service freely and safely, without shame.
"No one's asked to justify if they can afford it," she says.
With the $5 contribution from other customers, Coolen hopes to provide financially struggling people with free hot meals as the cold, wintry nights kick in.
Her menu includes a fourth generation Italian tomato-based pasta, gluten-free and vegetarian options, and classic Southland cheese rolls.
"It's soul food that makes you feel safe and comfortable."
People can purchase and collect meals from the van on Molesworth Street, which is close to many government buildings.
Coolen says the location may be too far for some people to walk to, so she is organising to personally deliver leftover meals at the end of each day to people living on the streets around the city.
www.stuff.co.nz/dominion-post/capital-life/80661275