Post by KTJ on Apr 28, 2015 12:22:34 GMT 10
Could this magic device prevent drunk texting?By Mark Morford, SF Gate Columnist | 1:23PM PDT - Monday, April 27, 2015P
ROCRASTINATE on the Internet too much? There's
an app
for that.
Need to unlock the doors on your new Porsche? There's an
Apple Watch app
for that. I mean, thank God.
Have trouble waking up in the morning because you hate your job and resent daylight, and hence you stay out way too late every night getting calmly hammered, quietly commiserating about your life choices and wondering where it all went wrong?
No problem. There's
numerous, highly obnoxious alarm clocks
designed just for you — clocks that, for example, won't stop bleeping until you physically stand upright and
spin around twice
, or ones that literally jump off your bedside table and
roll across the floor
until you reach under your pillow and pull out your special Happy American Dreamtime Glock (because USA!) and blast the thing to smithereens, as a special sensor in the clock realizes it's been obliterated and automatically orders you a new one from Amazon.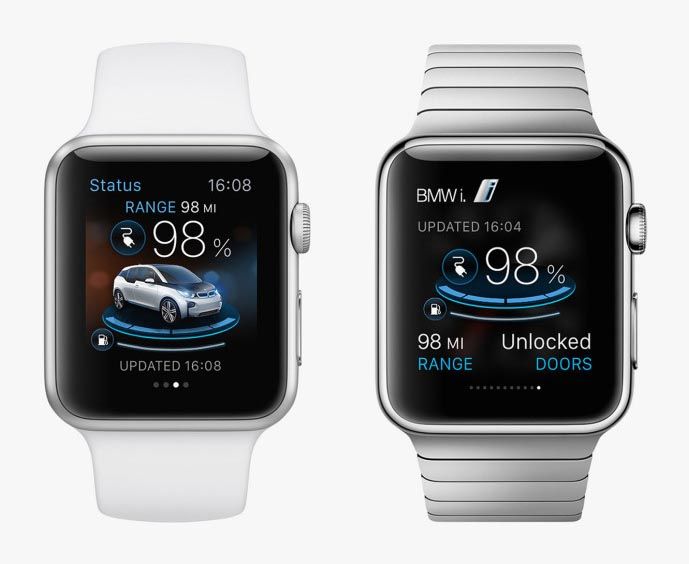 Bro, watch me unlock my BMW with my watch!
There are, you might say, a ridiculously large number of tools, gizmos, apps designed to improve efficiency, prevent dumb behavior, "smart" connect every object in your life, monitor your bodily functions and urge you to order more stuff you don't really need but who cares because America.
Question is, are any of them truly helpful? Is any of it really necessary?
Well, maybe. Behold the new and very poorly named
BACtrack Vio Smartphone Breathalyzer
that fits on a keychain and pairs with your phone to tell you just how drunk you are ("Keep blowing!"), calculating just how long until you're sober enough to go back to that meeting, destroy your liver and/or face down your kids. Helpful, right?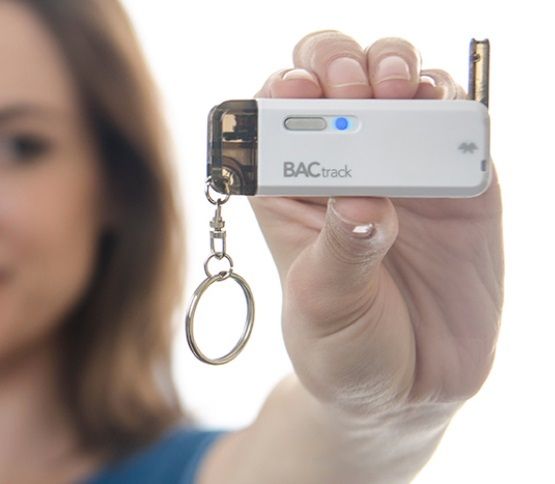 Because nothing says "I (heart) binge drinking" like your very own personal breathalyzer.
Get one for the kids!
Well, almost. Something's missing. What's
really
needed here is more cross-pollination, a perfect conflation of all the above — a mix of alarm, warning system, personal assistant, confidant, heart rate monitor and instant psycho-emotional analysis, all rolled into one exceptionally helpful meta-tool. Don't you think?
Here's how it
should
go: Keychain breathalyzer registers you're too hammered to drive, so the app disables your Tesla, as your Apple Watch gently vibrates, telling you to sip some water, stop mixing alcohols, chill the hell out before you do something, you know,
really stupid
. Meanwhile, sensors monitoring your liver reveal you've been binge drinking again, thus placing you in Binge Drinking Central, otherwise known as
Silicon Valley
. You're such a cliché! Get on the Google bus, bro!
Do you care? You do not care. You ignore the warnings, the beeps, the subtle nudges. As your vision blurs, you suddenly feel simultaneously empowered and emotionally fragile, tough and also totally weepy and lonely and, to be honest, in need of something — or someone — vaguely familiar and remotely friendly, even if that familiar thing doesn't really in the slightest bit want to hear from you right now.
Who cares? You put down the tequila and reach for your phone. You take a deep, boozy breath. You open the messaging window and tap the icon to start a new text when…
boom
! Big, red letters erupt across your screen: "Texting to this person has been BLOCKED by your liver. Shhhh, there now. It's OK. It's for your own good, honey."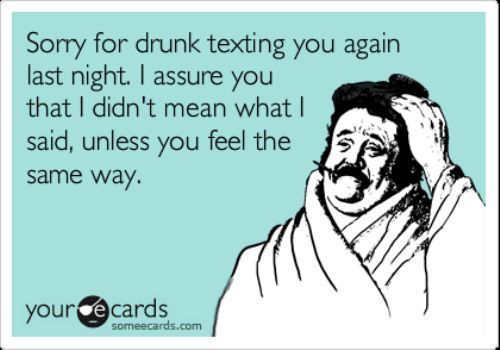 What the hell happened? Easy: While you were sucking down your fifth margarita, a special algorithm in the app scanned your Facebook profile, your recent texting history, your porn preferences and your current prescription medication, and instantly placed
a timed quarantine
around a very specific group of people — ex-girlfriends/wives, former lovers, dud boyfriends, hot baristas, college flames, your boss, your employees, the bartender right over there — and conveniently locked you out from any contact whatsoever for at least, oh, six hours, or until your blood/alcohol level drops back into "OMG what was I thinking" and "thank God I didn't drunk text my ex again" range. (You can, of course, still text your mom). Whew!
Sound good? It totally is. Of course, it's not foolproof, nor should it be. Just like in life, there should
always
be a special passcode override ("What's your ex's eye color?") for those times when drunk texting might lead to hot, awkward, semi-regrettable sex, the kind you only half remember but which gives you lots to talk about with your exasperated friends who can't believe your behavior, but who also can't help but ask how the sex was and what about condoms and you're all, like, "condoms?"
Technology!
•
Email: Mark Morford
•
Mark Morford
on
Twitter
and
Facebook
.
blog.sfgate.com/morford/2015/04/27/magic-device-drunk-texting