Post by Deleted on Mar 2, 2013 11:51:10 GMT 10
Oysters Ahoy!Big, fat, juicy and hereBy COLLETTE DEVLIN - The Southland Times | 5:00AM - Saturday, 02 March 2013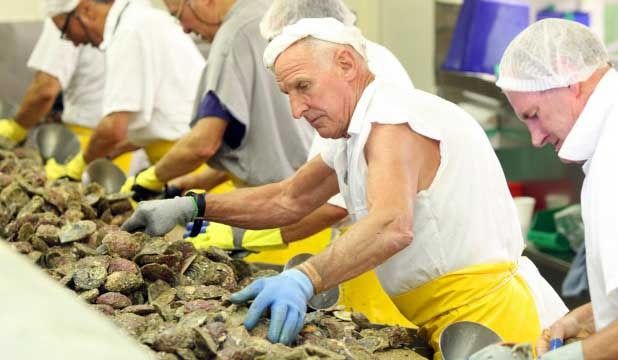 SHUCKING SHIFT: Workers process Bluff oysters at Barnes Oysters yesterday.
— NICOLE GOURLEY/The Southland Times.T
EY'RE BIG, they're juicy and they're here.
About 180,000 Bluff oysters, 15,000 dozen, were dredged in Foveaux Strait yesterday on the first day of the oyster season.
Bluff Oyster Management Company spokesman and Barnes Oysters manager Graeme Wright said skippers were happy with the first catch and the haul was as good as last year.
The oysters tasted "bloody good" and were quite large, he said.
Eleven oyster boats went out and early indications were it could be a healthy season, Mr Wright said.
Oystermen spent the first day combing the large area looking for good spots, he added.
"So far it's looking pretty good but the weather wasn't pleasant on the strait".
In 2012, the Bluff oyster fishery showed signs of growth, allowing the industry to harvest 2 million more oysters than in previous years after the industry's quota was increased.
A self-regulated limit of 9.53 million oysters was bumped up to 11.5 million.
The
Toiler
was one of the first boats to return to Bluff Harbour yesterday with about 60 bins of the highly anticipated molluscs on board.
Skipper John Edminstin said he was happy with his catch, which was slightly better than last year.
He had sampled a few of the oysters and declared them "juicy and delicious".
The boat left Bluff harbour about 11pm on Thursday. "It wasn't nice, it was raining and sloppy".
Mr Edminstin said he had found a good spot with big oysters and would return again this morning. "I also found a great spot that I will keep for the Bluff oyster festival on May 25".
It was hard to tell the state of the fishery after just the first day of the season but he expected he would have a clearer indication in about three weeks.
About 40 Southlanders and several tourists queued outside Barnes Oysters on Spey Street before it opened at 1.30pm to buy the season's first oysters and people continued to stream into the shop throughout the afternoon.
Many were regulars who picked up a few dozen on the first day of the season.
Georgina Ellis, of Invercargill, said she had been buying oysters on March 1st every day since Barnes opened.
The oysters, $23 a dozen for first grade, were worth every penny and she was taking them to family in Arrowtown this weekend.
Jackie and Eddie King, of England, had been passing through Invercargill on holiday when they heard about the "famous Bluff oyster", so decided to stay for a few extra days to find out for themselves. "We were not disappointed," they said.
Most people were stocking up for family members and almost everyone said they would be cooking them for tea last night. Barnes shop manager Dania Todd said it was the only day the shop sold the same day's catch.
"It's the freshest people will ever get oysters," she said.
One Invercargill woman was stocking up because she was going away for the weekend with her husband and hoped they really did have aphrodisiac properties.
While some oysters were flown to restaurants in Auckland yesterday, some would be transported today to restaurants in Wellington, including master chef Simon Gault's restaurant Euro.
www.stuff.co.nz/southland-times/news/8371772/Oysters-Ahoy
---
Bluff oyster given the personal touchBy COLLETTE DEVLIN - The Southland Times | 5:00AM - Saturday, 02 March 2013
T
HE BLUFF OYSTER is reputedly one of the best in the world, I am told, but until yesterday, I could not personally vouch for this.
Despite living in Invercargill for the past two years I had never eaten a Bluff oyster — in fact I have never tried oysters of any sort from anywhere in the world.
I am not what you would call a seafood fan.
In Ireland, I avoided fish and only picked over a battered cod and chips.
My opinion changed slightly when I moved to Southland and discovered blue cod, now happily eaten sans batter — quite an achievement for me.
So, armed with my newfound love for at least one type of seafood, I made the bold move to give oysters a whirl.
And what better sample to try than the world famous Bluff variety.
"When in Rome" and all that.
Unsure what to expect taste and texture wise, I was a little nervous as I stood in the factory waiting for my turn.
A blob of slime was staring up at me from a freshly shucked shell.
Surely this wasn't what all the fuss was about?
I didn't know how to eat it, so watched as an expert showed me how.
When my turn came, the first thing I thought was be brave, it can't be that bad.
Turns out the little things aren't so little and I contempleted cutting it just to be able to eat it, but the laughter at the suggestion convinced me to just give it a go.
All I could smell was the sea and as I slurped it into my mouth, all I could taste was the sea.
I chewed, at first I thought I was going to be sick but then my tastebuds kicked in.
It sounds strange but I could almost taste the ruggedness of the Foveaux Strait.
It was not as strong as I expected, and I actually enjoyed the flavour.
Some of my colleagues were appalled I had eaten it raw, they clearly have not been converted to the joy that is the Bluff oyster.
I am not jumping for a chance at trying another, but the idea of the oyster festival in May has become a lot more appealing.
www.stuff.co.nz/southland-times/news/8371773/Bluff-oyster-given-the-personal-touch